As I slide tenderly into middle age I have discovered something quite disturbing: Nobody knows how to make a fabulous Martini.
The Martini has always been my cocktail of choice, and in recent years after several life milestones rudely slapped me in the face, the Martini and I have enjoyed each other's company more now that we ever did back in my 20's when vodka tasted (to me) like Listerine gone bad.
And gin was something you used to clean the bathtub.
There are many opinions on what constitutes a real Martini, since shows like Sex in the Cityand Mad Men have breathed new life into an old drink that our parents used to glorify. In the ring-a-ding-ding era of the Rat Pack the Martini was the cool kids' drink.
But once Carrie Bradshaw and her posse started swilling Cosmos, which are nothing more than vodka Martinis in strappy Jimmy Choo sling-backs, then all these weird, inbred Martini cousins started crashing the party. (Seriously, an "Appletini"? What the hell?)
To be clear, these are posers. Nothing can replace an old-fashioned Martini. Which, by the way, is harder to find than you think…outside of my kitchen, anyway.
So in case you ever invite me to your house, and you offer me something to drink, let me share with you the recipe, that if you follow diligently, will forever bond us as BFF's.
THE MARTINI FIXINGS
A straight up (stemmed) Martini glass
Ice (cubed, not crushed, we're not making slushies here)
Vermouth
A shaker (glass or metal, NOT PLASTIC, save your nasty Tupperware for your Jenny Craig smoothies)
Green olives or lemon rind
Gin or vodka
There are some debates as to if vodka is even allowed in a real Martini, but I say if it's good enough for James Bond, then it's just fine for soccer moms on a girls-night-out bender.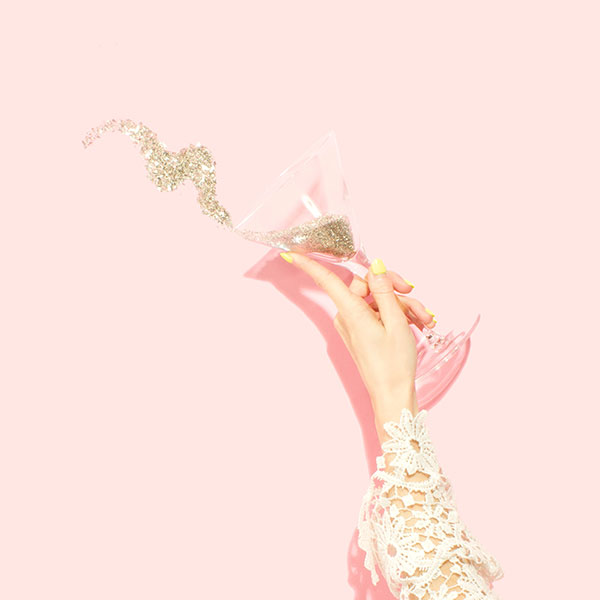 HERE'S WHERE IT GETS TRICKYTo make a fabulous Martini you have to start the day before. Yes, you heard that right. Put the Martini glass and shaker in the freezer before you go to bed. In the interest of efficiency I just keep my metal shaker and a few Martini glasses in the freezer at all times. (Mental note: I need to get a bigger freezer.)I like the metal shakers because the glass ones kept getting broken every time I shoved a jumbo box of dinosaur-shaped chicken nuggets into the freezer after a Costco run. Such are the issues when sophistication collides with sweat pants.
Take the frozen shaker out of the freezer and fill it with ice cubes. Add about a tablespoon or less of vermouth. If you want to be really gansta about it use the vermouth bottle cap as your measurement. Swirl the shaker for about 60 seconds, then dump out the vermouth, but leave the ice.Otherwise your Martini tastes like how the perfume counter at Bloomingdales smells. Bleh.
Add about two ounces of vodka or gin. (I prefer vodka because gin and I had a standoff in college that haunts me to this day.) Martinis are not to be consumed in a Big Gulp cup, people. They are to be sipped and savored over time. On a particularly stressful day, you can increase the booze to two jiggers, which is three ounces. NO MORE THAN THAT.
If you feel the need to slam back a few, then get yourself a Long Island Ice Tea with an Advil chaser and call it a day. A Martini is a civilized drink for grown-ups.
Cap the shaker and gently swirl or shake it. But don't excitedly winch it up and down like you're pleasuring the maracas in Ricky Ricardo's Latin Jazz Band. You simply want to dilute the vodka a bit while blending it with the hint of vermouth. The goal is to be able to smell the vermouth when you bring the Martini to your lips, but not taste it.
Let the shaker rest while you clean up your mess and put on some music. I suggest Miles Davis, Cannonball Adderley, Bill Evans, or Oscar Peterson. If you don't know who any of those artists are then you probably shouldn't be drinking Martinis.
Give your shaker one last swirl, then take your frozen Martini glass out of the freezer and fill it with your prized nectar. Stick two olives on a toothpick and drop it into the Martini. Or include a small, twisted lemon rind. Optionally, you can add a dribble of the olive juice to make it dirty, which I prefer.
Serve with pretzels, cocktail peanuts, or a tart cheese with Waterford crackers. But I swear to God, if you haul out Cheerios, string cheese, tuna on a Ritz, or any cracker in the shape of a goldfish, I will have to smack you with my vintage vinyl copy of Sinatra's Songs for Swingin' Lovers.