We at Sassypants Design have the distinct pleasure – make that honor – of working with Uplift Gift, a business that is more than just another company with cool products. Don't get me wrong, they do have exquisite offerings, but they also have a higher calling. And lucky us – we design their custom greeting cards.
Rather than try and explain Uplift Gift myself, I sat down with Kirsten Fox, founder and CEO, and asked her to tell me her story. It is one that is guaranteed to inspire. If we haven't been there ourselves, we most certainly know someone who has.
What follows is Kirsten's story in her words.
"I was diagnosed with Stage 2 breast cancer in June 2014.
"My local friends brought food and spent time with me. My distant friends sent cards, small gifts, or called, but many said they didn't know what to do.
"I'm open about my breast cancer diagnosis and treatment. Therefore, I began to get emails, texts and phone calls from women who had a friend going through something similar and who didn't know what to say or do. They were afraid of saying the wrong thing.
"Since I am an entrepreneur, I started getting the message that perhaps this would be a good business… helping:
provide meaningful, beautifully wrapped gifts for people to give their friends
people who don't know what to do or who live far away
"I put together curated gift packages that include meaningful, beautifully-wrapped items like hand-dipped chocolates, essential oils, soft pashminas, organic teas, custom greeting cards, soy-based aroma-therapy candles. We at Uplift Gift cover many categories of life's challenges: divorce, sympathy, get well, apology, motivation, appreciation, even pet loss.We want to be the trusted source of uplifting gifts in the United States.
"Before I got sick and I heard from someone going through really bad times, I felt pressure to find something to say or do that would make them feel better. Most of the time, I became so worried about offending them, I just was stymied and didn't do anything.
"An example took place at the grocery store: I saw a friend whose son had just tragically died, but couldn't think of anything to say, so I turned down an aisle and quickly checked out. I have never gotten over the cowardice of that choice.
"After going through the trauma of a cancer diagnosis, I discovered the mistake in my thinking: no one can deliver something that will take away the pain; no one can allay the fears.
"What we can do is stand by our friends with gestures of love, whether a gift from my company or another, or a card, or even just a phone call, one of the best things to say to someone struggling with traumatic situations is "I'm thinking of you," or "I'm here for you."
"As I went through my mail, I almost missed one of the most important gifts I received during my treatment. A post card from one of my clients read, "A gift in your name has been made to the Breast Cancer Research Foundation".
"I sat still and felt like warm chocolate was pouring over me. I suddenly had become a part of the larger solution. Suddenly my cancer was possibly helping others by funding a non-profit.
"So, our company will always give back 5% of profits to non-profits. We want the gift giver, the non-profits and, most importantly, the distressed friend to know that. We want her to get to the last layer of gifts and see the card that says, "Your gift is also helping to uplift others, as we give 5% of profits to charities."
"I want her to feel that warm feeling of being a part of the solution and something bigger.
Your content goes here. Edit or remove this text inline or in the module Content settings. You can also style every aspect of this content in the module Design settings and even apply custom CSS to this text in the module Advanced settings.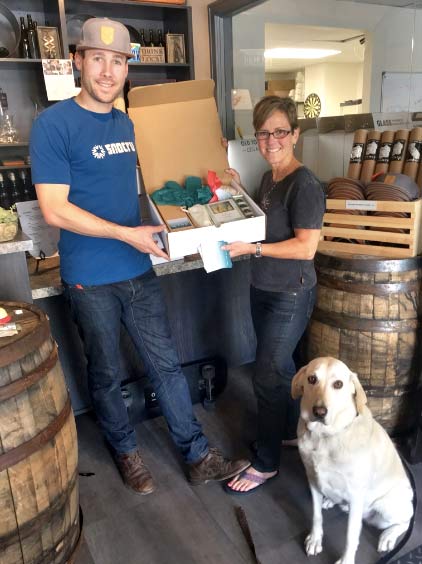 First Box Ready for Delivery
"As the vision for this company came to me, people I know, friends and acquaintances, told me of business owners who would understand our concept. Most of our suppliers are motivated by more than money. They are connected to our cause:
"Phyllis Robinson, owner of Tandem Chocolates, grew up with a mother who hand-dipped chocolate-covered cherries in the kitchen, while struggling twice with breast cancer.
"And you, Amy (graphic artist and owner of Sassypants Design), create the art for our greeting cards and are a breast cancer survivor yourself.
"When we were a month out, starting to do product shots, our photographer and middle school teacher, Deb DeKoff, was diagnosed with breast cancer, so she shot our products after surgery and before chemo.
"In addition, daily I have friends asking if they can volunteer to pack boxes. These women want to be a part of uplifting others.
"So many women are like me, juggling a job or two, supporting kids' activities, keeping the house from looking like a bomb went off, and trying to be remotely aware of what my husband is doing. I've had to let go of some traditions like Christmas cards, being home when the kids arrive after school, attending friends' birthday dinners, etc.
"One thing that hasn't changed: when a close friend calls, crying on the other end of the phone about something tragic, I must do something for her. Before I opened this company, I'd be shopping at my favorite store, choosing nice wrapping paper, finding a box to put everything into, taking it to my car, watching it sit on the back seat of the car for three weeks, finally getting to the post office, waiting in line and sending it off.
"Uplift Gift is the solution to avoid that scenario – a supportive friend can order a box, with a personal message for the custom card that will be hand-written by our staff, and we will ship the box so the items will be comforting her friend in no time."